Have a semi-formal event coming up but not sure what to wear? Don't stress, we've got you covered. As much as we all love an excuse to get dolled up in a fancy dress or sharp suit, semi-formal attire gives you a chance to be stylish and put together without the fuss. The key is finding an outfit that straddles the line between casual and cocktail, something polished yet relaxed. Whether it's a birthday dinner, holiday party or charity gala, these semi-formal looks will have you dressed to impress in no time. So ditch the sweats, but leave the ball gown in the closet. We're here to help you navigate semi-formal style so you can focus on enjoying your night out.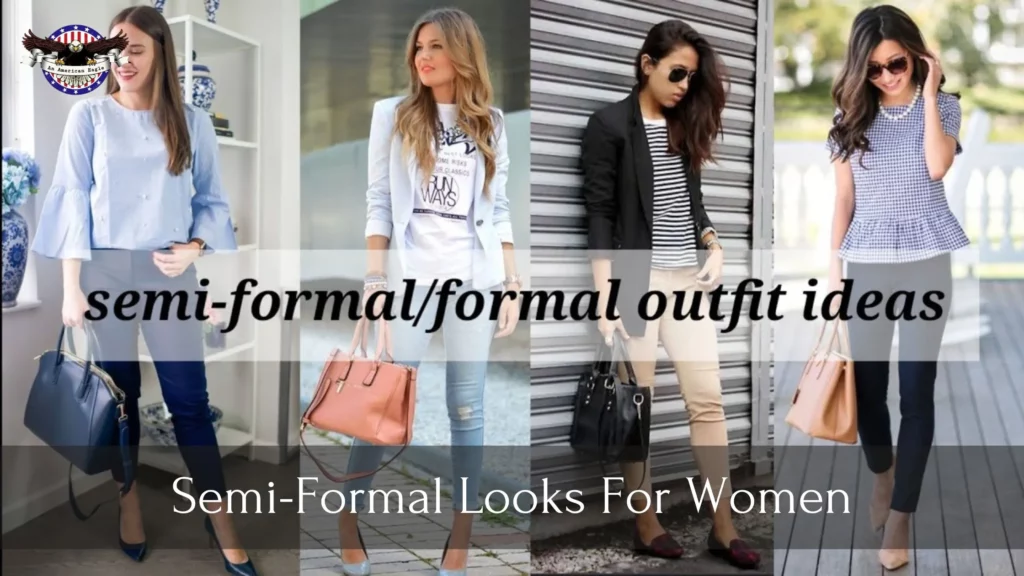 The Perfect Semi-Formal Tops for Women
The key to pulling off semi-formal wear is all in the top. For women, a stylish blouse or camisole is a great place to start.
A button-down blouse, preferably in a solid color or small print, is a classic choice. Look for options made of silk, chiffon or georgette that drape well and move with you. Pair it with dress pants or a pencil skirt.
A lace or embroidered camisole under a tailored blazer is another chic option. The camisole adds a feminine touch while the blazer keeps it polished. This combo looks great with jeans, slacks or a knee-length skirt.
In terms of fabrics and colors, go for rich jewel tones like emerald, ruby and sapphire or metallic accents that dazzle. Gold and rose gold are especially stunning for a night out.
With the right stylish and semi-formal top, you'll be dressed to impress at your next special occasion, whether it's a date, wedding or work event. Now get out there and turn some heads!
Sophisticated Semi-Formal Dresses That Impress
A sophisticated semi-formal dress is perfect for many occasions that call for cocktail attire. Whether it is a wedding, holiday party or work event, you'll want options that are stylish yet polished.
Look for midi or maxi length dresses in rich colors like emerald, ruby or sapphire. Velvet, lace and chiffon fabrics in jewel tones or metallic sheens are ideal for creating an elegant evening look. A wrap dress, sheath or A-line silhouette that hits mid-calf or ankle-length is a flattering and timeless choice.
Do not be afraid to make a statement with details like bell sleeves, a plunging neckline or open back. Just be sure the overall look remains balanced and tasteful. Statement earrings or a glamorous necklace pair perfectly with a bold dress.
For shoes, consider strappy sandals, peep-toe pumps, or lace-up heels. A stylish yet comfortable 3 to 4-inch heel works for most semi-formal occasions. Carry a metal mesh bag, beaded clutch, or fur muff to complete your ensemble.
With the right accessories and styling, a sophisticated semi-formal dress lets you look and feel your best for a special night out. By choosing rich colors, luxurious fabrics, and a figure-flattering silhouette, you'll achieve a stunning look that impresses you. Now get ready to dance the night away!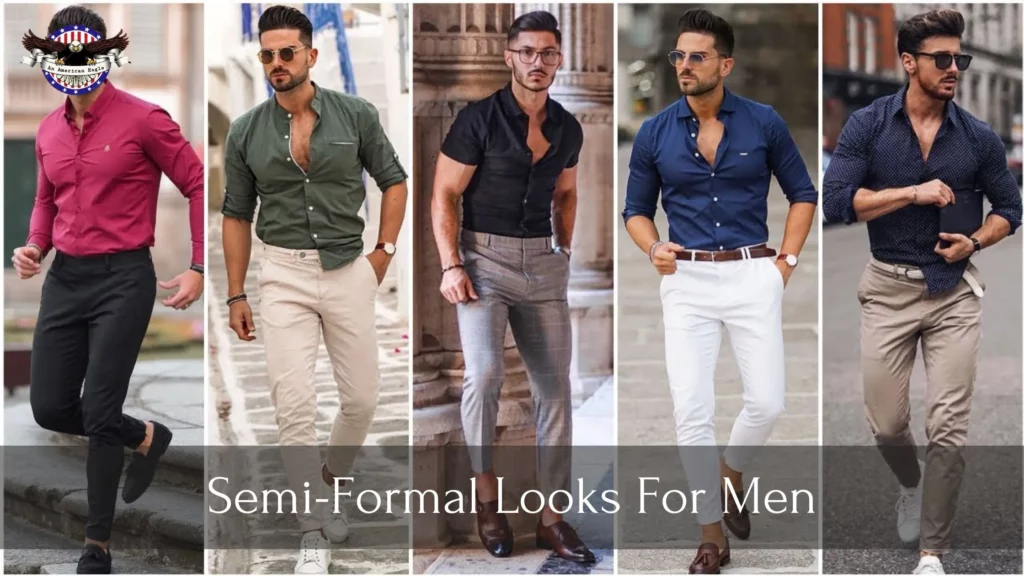 Semi-Formal Outfits for Men: Button-Downs
For semi-formal events, you can't go wrong with a button-down shirt and slacks. This classic combo strikes the right balance between casual and formal.
Button-Down Shirts
A solid-colored or simple patterned button-down shirt in cotton or a cotton blend is a perfect choice for semi-formal attire. Look for muted and medium tones like light blue, gray, or burgundy. Avoid anything too bright or flashy. Make sure the shirt is pressed and lint-free.
For a stylish touch, you may want to consider:
A shirt with a subtle checked or striped pattern.
A shirt in a solid hue with contrasting buttons.
Rolling up the sleeves to your elbows for a relaxed vibe.
This classic and polished look will ensure you're dressed to impress for your semi-formal event without a lot of fuss. Most of these pieces you likely already have in your wardrobe, so you can pull it all together with minimal stress or expense.
Stylish Semi-Formal Accessories to Complete Your Look
Semi-formal events call for outfits that strike a balance between casual and formal. Accessorizing is key to achieving a stylish semi-formal look. Here are some accessories to complete your ensemble:
Statement necklaces: A bold necklace is an easy way to dress up a simple top or dress. Look for gemstone, beaded or metal statement necklaces that complement your outfits colors or metallic accents.
Earrings: Whether you prefer studs, hoops or dangling earrings, a polished pair of earrings pulls a semi-formal look together. Gold or silver earrings with gemstones or crystals are always a stylish choice for a semi-formal occasion.
Bracelets: Bracelets add subtle glamor to a semi-formal outfit. A tennis bracelet with gemstones, a bangle set or a sleek metal cuff bracelet all make chic additions to a semi-formal look. Stick to bracelets in gold, rose gold or silver for the most polished look.
Belts: For semi-formal dresses or jumpsuits, a stylish belt is key to achieving a flattering silhouette. Look for belts in luxe materials like satin, lace or faux leather and in colors that coordinate with your outfit. Metallic belts also add shine and glamor.
Clutches: No semi-formal outfit is complete without a chic clutch. A stylish clutch in a solid color, metallic shade or lace complements most semi-formal looks. Look for an envelope clutch or box clutch and carry it in your hand or under your arm.
Scarves: For chillier weather, a stylish scarf completes your semi-formal ensemble. A silk, chiffon or lace scarf or wrap in a solid color or metallic shade is an elegant choice. Drape the scarf around your shoulders, wrap it around your arms or tie it to your handbag for an extra flourish.
Following these tips will ensure you're dressed to impress for any semi-formal occasion. With the right accessories and outfit, you'll exude polished style and confidence.
Conclusion
So there you have it, a few semi-formal outfit ideas that won't break the bank or require hours of planning. Dressing up doesn't have to mean a frantic rush to the mall and maxing out your credit card. By choosing a few versatile pieces in solid colors and simple silhouettes, adding some stylish accessories, and keeping your hair and makeup relatively simple, you'll be ready for any semi-formal event with time to spare. Now get out there and rock one of these looks at your next cocktail party, awards dinner, or night out. You'll turn heads for all the right reasons without the stress. 
Visit Us: https://anamericaneagle.com/